Bricks, mortar – and vision

By Susan Miller (October 2021)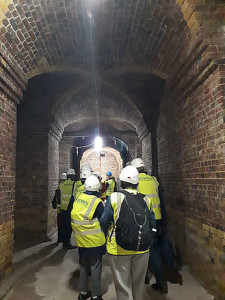 It's not often that I get to put on a hi-vis jacket and hard hat and visit a building site but I got the chance on a recent site visit to St John's Waterloo's £5million restoration project, which is due to be completed in June next year.
Joining others, including long-standing congregation members, and HRBA's Trevor and Becky I found the tour, led by James McNeill, of Eric Parry Architects fascinating.
St John's, a London landmark church opposite Waterloo Station, is extremely spacious. It's a beautiful airy building.
Currently blocked off by contractor hoardings, a succession of colourful posters outside point to what St John's has offered and its vision for its offer to its communities in the future. With its nave covered by a forest of scaffolding the space is now hidden but in the crypt it's easier to get a sense of it. It has been emptied and stripped bare giving one a sense of awe, dusty, raw and somewhat damp, as it is.
Aims of the project
The main aims of the restoration project, entitled ReIGNITE are:
– Creating space for its vibrant charity arm, The Bridge at Waterloo, to run Waterloo Well, its new programme of employment training, resilience, wellbeing, and therapy projects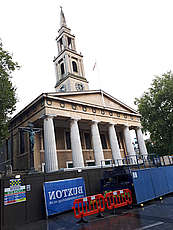 – Creating new offices and state-of-the-art rehearsal facilities for the alumni of the world-renowned academy orchestra Southbank Sinfonia
– Creating three new meeting, rehearsal and training rooms, a studio space, two counselling/practice rooms, a community kitchen, and showers for when the church runs as a homeless shelter
– Opening its entrance with a new foyer
– Improving acoustics and lighting for state-of-the-art performance facilities
– Restoring the significant Hans Feibusch mural (which was safely covered up for our visit) and enhancing its visibility as a focal point
– Creating a new baptistry and prayer space near the entrance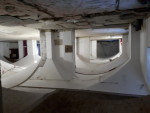 – Installing a new lift to give full access to the crypt
– Making the brick-arched Long Room in the crypt into a spectacular space for events, exhibitions, performances, and private hire
– Installing new lavatories (these will be seven Super Loos which come with showers) and a store for the churchyard gardeners
This last aim is important as St John's has always had a superb garden, a lunchtime haven for office workers, students and even tourists. Even on the rainy day of the tour, five voluntary gardeners – and one playful dog with a ball – were hard at work.
It's also always been a beacon of hope for the homeless community and the additional kitchen facilities will be able to cater for up to thirty. Ambitious and compassionate at the same time.
Beauty of brick
One of the stand-out moments on the tour was standing in the 'Long Room' in the Crypt where absolutely beautiful brickwork has been uncovered and cleaned on the walls and groyne vaults. A mix of 'London stock and softer red brick' they are simply glorious. "A treat," says the Rev Canon Giles Goddard, vicar of St John's.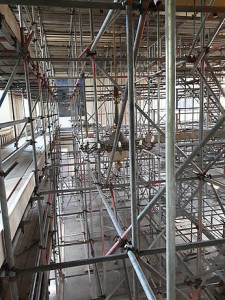 Their aim is to make the atmospheric space available for events, exhibitions, performances and private hire (I think all of us standing there were planning glorious dinner parties underneath the brick-arched space).
There will also be new windows and the walls will be painted white with a cork floor (with an acrylic finish), to aid the acoustics. New radiators will be installed to aid heating.
However, the church has had bad new: asbestos was found in some of the pipe works etc and it was removed but then more recently more was found in the roof space. This too is in the process of being removed. The Rev Goddard, said, "We thought we had got rid of our asbestos in the 1990's but this new lot will cost at least another £50,000".
While they are hoping the new costs can be spread across the project and somehow absorbed, they have also started fundraising again. Of course, it's a familiar predicament to anyone who has been involved in a restoration project as new issues come to light during the works.
Sound and vision
A major part of the restoration is to improve the lighting and the acoustics in the building for liturgical, community and artistic reasons.
The nave will retain its 1950s colour scheme of green, creams and golds as the Revd Giles said it didn't want to go 'too cold.' And they will be levelling the floor which will aid accessibility and means the altar can be 'moved back and forth'.
As stated above the project will benefit the Southbank Sinfonia with new acoustic-friendly features and will also serve to highlight the altarpiece painted by German-born Jewish artist Hans Feibusch (1898 –1998) in 1951. After restoration it will be much brighter. The Heritage of London website says the painting has deteriorated considerably and the restoration will 'involve improving the thermal performance of the wall as well as consolidation and conservation of the paint layers.'
While we stood outside looking up to where the painting is situated from the outside, James said the works would restore a 'sense of translucence' to it.
As part of its ongoing commitment to climate action the church was thrilled to have been awarded a grant of £30,000 from the London Community Energy Fund and is installing 114 solar panels on its roof (once the asbestos has been removed of course). The crypt will be entirely powered by the solar panels which will leave it a zero-carbon venue. While they wanted air source pumps these are very expensive and a gas boiler will heat the church 'for now' as Rev Giles says.
We were all enthused by the team working on the site, the architects and the contractors and the church team, united by their love for the building and how it can provide space for community ventures. St John's Waterloo may be a very big church but its congregation and its community involvement make it seem smaller and more intimate, in the very best way.
As I handed back my hard hat to the contractor's trainee health and safety officer who had assiduously kept us from site dangers I was really grateful to have been invited. It was an uplifting visit!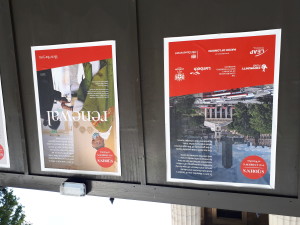 PS St John Waterloo has received funding from many sources and it has drawn up numerous and creative ways to acknowledge and remember donors. I especially loved the prize for donating between £100 and £299 which is earmarked to fund a solar panel and which promises an invitation to a vicarage tea party for you and your guest. Donations are of course, still being welcomed.