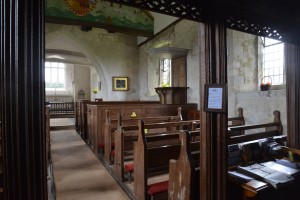 Events
For up to date, latest information, please sign up for our free newsletter    
Booking is now OPEN!
The 9th 'Planning and Managing Major Buildings Projects' training day is taking place on Thursday 21 November 2019 in Holy Trinity Church, Boar Lane, Central Leeds.
Organised by HRBA in partnership with Purcell Architects and the Diocese of Leeds (CofE), the day covers the management of all stages of a building project in a place of worship, from developing your vision through to making sure benefits are achieved over the long term. Other presentations will include engaging with the wider community, fundraising, working with your architect and managing works once on site.
There will also be lunchtime surgeries where you can raise issues arising from your own project.
https://www.eventbrite.co.uk/e/planning-and-managing-major-building-projects-in-places-of-worship-tickets-71034196193?aff=ebdssbdestsearch
And coming up SOON!
Faith and Place: A Future for the Isolated Rural Church
Date: 16 October 16, 2019 9:30 am – 5:30 pm
Weston Room, Norwich Cathedral
Organised by the Norfolk Churches Trust the day explores how we can solve the issue of isolated rural churches. The day is divided into two parts: the morning looks at 'The current situation' and the afternoon looks at 'What can be done to help?'
Keynote speakers include Trevor Cooper of HRBA, John Goodall, Architectural Editor  of Country Life, Diana Evans, Head of Places of Worship, Historic England and Richard Halsey, Architectural Historian.
Click here for the full programme
Click here for booking information
Quarterly meetings Subscribing members are invited to our quarterly meetings, which are publicised in our e-newsletter
Members Meetings 2019
Wednesday, 5 June: Members Briefing meeting (2pm – 4.30pm) in a church in the City of London – exact venue to be confirmed
Wednesday, 4 September: Members Briefing meeting (2pm – 4.30pm) at CPRE Offices, 5-11 Lavington St, London SE1 0NZ
 The Big Update
Wednesday, 11 December: The Big Update – All-day conference at St Alban's Centre, Leigh Place, Baldwin's Gardens, London EC1N 7AB