Church tourism post Covid
By Susan Miller (March 2022)
Now that churches are gradually reopening I thought it would be a good time to speak to Sarah Crossland, Engagement Manager at the National Churches Trust (NCT), about the impact of Covid on Church Tourism, and learn how one can put one's church on the tourism map.
Leading up to March 2020 and Covid-19, Sarah was working on a project funded by Visit Wales which focused on 'working with churches on how to develop bookable experiences' and she explained that much of what she would say would be based on this.
Firstly, what impact did Covid have?
"Covid had a massive impact both on churches and the tourism sector. Churches because they were told to close and even when allowed to re-open, faced restrictions and complicated rules.
"And tourism, a huge contributor to the UK economy, just stopped. In 2019 there were roughly 41 million inbound visits into the UK. In 2020 there were about 11 million, and then in 2021 it went down to about 7 million.
"This year, the numbers are anticipated to reach about 20 or 21 million visitors."
She says the situation remains complicated for churches.
"I still have churches, particularly in Wales, saying, 'the diocese has told us that we can't open unless we have staff', even though those rules aren't in place anymore.
"Other churches make the decision that they want to open, and use clear signage and hand sanitizer. So currently there is a huge spectrum in terms of how churches are opening."
Are many churches still closed?
"I would say that more churches are closed than before, as in not open at all. There still is a huge wariness. But I think as we go into summer this will probably change because we are moving to a feeling that we have to live with Covid now. I'm pretty sure that regular church events and festivals will happen."
Sarah says it is imperative that open churches reach out to visitors: "We need to show clearly that churches are open again, accessible and usable. The public as well as the churches themselves were shocked when churches were closed." Her overall advice is to put a noticeboard outside the building and/or a notice on the door urging people to 'try the door' and encouraging visitors to move beyond the porch and into the building."
How did lockdown and then partial re-openings work for churches?
"People couldn't visit the churches, but they were seeking outside spaces so we suggested churches encouraged visitors to use churchyards, and through our website we encouraged visitors to find out more about the churches they were passing on their daily local walks.
"The 360° online tours were really popular, particularly for churches who made the most of them. For example, a vicar from a group of churches in north Wales offered online meditation together with a church tour, which was extremely popular.
"And then, as we started to come out of the strictest lockdowns, we saw a huge boom in people wanting to travel within the UK, especially to Wales. They're expecting the same this year."
So digital offerings worked?
"Yes, but it's not just about offering a 360° tour, it's about really engaging with people and for them to feel the benefit almost as if they had come through the door and perhaps been moved to leave a donation. Tourism is in part about economic benefit and we want visitors to help sustain these amazing buildings.
"The churches and organisations that did the best and continue to do so find a way to create an emotional connection or heritage connection and break through the separation that can be there when someone is viewing something virtually.
"For example, I live very close to Cannon Hall Farm, which is a visitor attraction as well as a working farm, and they started a digital morning catch-up on the farm for an hour a day during lockdown. Their viewing numbers soared and they even started a supporter's group. We use them as an example in our tourism training.
"So yes, it's great to offer a static virtual tour on Facebook or your website, but first, you've got to get people to that website. And secondly, you need to find a way to really engage and keep them engaged. So make the most of live tours or post regular stories and/or videos.
"It is never wasted as there will always be people who still prefer to engage online. And, online tours and videos will hopefully encourage others to visit you in person!"
What is the main target market for church tourism?
"The people that we tend to attract to churches have been to Britain before. They've done the usual London, York, Edinburgh route. They want to get off the beaten track; they want to meet real people and experience 'real British life'.
"Our particular campaign in Wales was about making it feel more accessible to people, particularly among our target markets. One of our biggest is the whole of North America, from where thousands visit the UK for faith reasons or faith heritage, as well as heritage, which is the biggest driver of inbound tourism into the UK."
And what are 'bookable experiences'?
"Key to the training is understanding that bookable experiences are very different to putting on an event on a specific date and selling tickets etc. Though those are valid too of course!
"It's about thinking about what you can provide and how you can add value that benefits both the visiting group and the church. For example, adding in food and drink gives them a better experience and the church more money.
"Availability is key. It's about saying, 'we could do this tour and afternoon tea or we could do that pilgrimage every Tuesday and Thursday afternoon, or every Saturday morning or every day, if you like.' It is then about promotion and marketing to bring in the customers."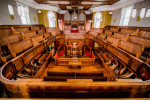 Sarah suggested two examples for churches to look at to see how 'experiences' can work:
Secret Histories, an insider's guide to Plough Chapel Brecon, a behind-the-scenes tour and great Welsh Tea
and The Great Market & St Peter Mancroft experience in Norwich, organised by a Blue Badge holder and which includes a "cup of tea at Birchley's Loose Leaf Tea company and a visit to the Market Church, St Peter Mancroft".
How do you help churches to create bookable experiences?
"We used the Covid period to carry out training because churches unexpectedly had time. We offered specialist training on developing experiences that are manageable and attractive to different groups of inbound visitors.
"We also helped churches pair up with existing and potential tourism providers to create a positive win-win relationship. Pairing up churches with Blue Badge Guides and Green Badge Guides etc. is pretty common.
"For example, we've got somebody who leads two guided cycle rides around Anglesey, visiting churches. The churches benefit from having a professional partner who manages all the bookings and customer service – that is, the tourism side. She gives a set donation to each church, but also encourages her visitors to donate when they come through the door.
"We also have an Adventure Provider offering a pilgrimage by kayaking between churches in Pembrokeshire, which appeals to the sportier type of visitor. The UK gets lots of sports teams coming to train and tour. I now have a group of some 30 teenage boys from America who have signed up for the kayaking tour of churches in Wales."
Do churches need a particular story/appeal?
"For me, the church is the draw anyway, but I am a church geek and not everybody is. The obvious one is that it could be amazing architecturally, but it could also have amazing social history stories. For example, there is a church in south Wales, St Gwyndaf's Church in Llanwnda, which has a Welsh Bible with burn marks all around its edges because the village was the site of the last invasion onto British soil.
"Or it could just be that the church puts on a really amazing afternoon tea. We worked with Harrogate Baptist Churh and they united with Betty's Tea Rooms, which was across the way, to offer a class where visitors could learn to make Betty's famous Fat Rascals. The visitors enjoyed a baking session with Betty's staff and then went to the church for a short organ recital and tour. By the time they got back to Betty's, their rascals were ready to be eaten.
"Churches should 'look outside the box' and see what potential experiences may be nearby. And also, what their local tourism body is promoting. I genuinely think that 95% of the time, churches will find a way to connect. It's very rare that there's a national day for something and I can't find a church that fits!"
So where should churches start?
"Have an initial think and then come on one of our training sessions about creating experiences. We can help with identifying audiences and marketing and how to price things so churches can offer good value and make a profit. This will give people enough of a background to go away and work on the proposal and come back to us. We'll have an in-depth discussion to finalise the practical details and then it can be added to Our Experiences web pages."
* * *
In the last month, the National Churches Trust (NCT) has merged its two websites – the core corporate one and the ExploreChurches website (there is still a standalone Explore site too). The aim is to encourage the two different audiences to appreciate all the aspects of NCT's work, and promote greater cross-fertilization between them.