From our Roving Reporter . . .
Poppies to remember – UPDATE late 2022

By Susan Miller, Autumn 2022
North Baddesley's St John the Baptist church, Hampshire, a medieval building just outside the large village will always be known as the Poppy church after its congregation and other supporters united to cover its tower in red knitted poppies in November 2018 to commemorate the 100th anniversary of WWI – scroll down for details.
While All Saints is at the heart of the village and the community, St Johns, in its glorious setting, is perfect for baptisms, weddings and funerals.
Covid
Talking about the church since we first reported the story in early 2020, Sally Kerson, Benefice Administrator (and also a lay preacher) for St John and All Saints, was proud to report the two churches kept going through Covid. They restarted services in March this year.
Library and children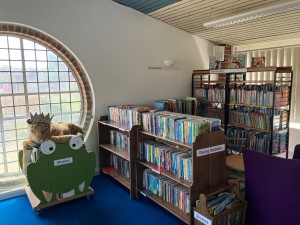 At their other church, All Saints, which was built in the 1960s, they opened a library inside the church in July 2022.The North Baddesley Community Library, open at regular times, is to be run by volunteers and will be self-funded. It includes a children's area and it was opened by local children's author Claire Gradidge, author of murder mystery The Unexpected Return of Josephine Fox which won the Richard & Judy Search for a Bestseller Competition 2019.
This was the brainchild of the new(ish) vicar Revd Vanessa Lawrence who found out that the library couldn't afford to pay increased rent where they were previously being housed.
All Saints has a pre-school and a toddler group too and Sally has organised a few craft afternoons in the summer holidays for the children. They are also doing takeaway breakfasts for children during the school holidays every Wednesday morning having perceived there was a need. They have introduced Messy Church and are still screening some services from All Saints as a few people are still preferring to watch from home.
Not sitting still . . .

Sally also organises work parties in the churchyard – sometimes through Caring for God's Acre – and she will be participating in the Love Your Burial Ground week next year. At last year's Romsey Festival which had been postponed from 2020 she organised a churchyard trail at St John's. https://www.romseyfestival.org/events/churchyard-trail-st-johns/
Sally is building up their presence on the web https://www.acnb-church.org/ and via social media as well – on Twitter, Instagram and Facebook https://www.facebook.com/acnbchurch
Ambition
Sally's ambition now is to find someone in the community who can write grant applications as they want to fund much-needed renovations at All Saints.
* * * * * * * *
Poppies to remember
By Susan Miller (March 2020)
No-one who saw it has forgotten how this remote church draped its tower in poppies to mark  the 100th anniversary of the end of WWI.
The country church of North Baddesley, Hamsphire will forever be known as the 'Poppy Church'.
The image simply captured people's imagination.
In today's difficult times, what can we learn from North Baddesley church, Hampshire?
Click on the image or here to see a time-lapse video, and scroll down for more images.
Sometimes an event is just so wonderful and pulls so many people together that it will always be remembered.
In November 2018, along with many others, the St John the Baptist church commemorated the 100th anniversary of the end of WWI.
The small Grade II*-listed church's congregation and supporters rose superbly to mark the occasion and covered its tower in red knitted poppies and it subsequently became known as 'The Poppy Church'.
With more than 4,000 knitted poppies cascading down from its tower, the church drew media attention and large numbers of visitors. Many were touched by the beauty of the gesture and locals still describe the sight to visitors (which is how your roving reporter heard about it).
Ian Wylie, volunteer worship leader and Communications support for the Church of England churches in Ampfield, Chilworth and North Baddesley, said that the vicar, Reverend Victoria Ashdown had the idea for the poppy tower and it grew from there.  " … an idea had come which really inspired people."
The practical side followed the vision. "I did some concept art which showed what it might look like and we all sat back and we looked at it and we all said this has to be done" he said.
The Benefice Administrator, Sally Kerson made a lot of connections and after they'd enhanced and shared the imagery of what it could look like "the poppies just kind of started rolling in'. They also put information up on social media.
"We have a knitting group and they helped. There were some periods where we thought we're not getting enough but we were posting fairly regularly about it and talking to people about it and the village just grabbed it. It became a much bigger project than just a church thing," he said.
"Some families in the village even told their extended networks and we got poppies arriving from overseas".
And they weren't too prescriptive about the colours or even the patterns they wanted.
"We came across a poppy pattern which was really quite easy and we also weren't very specific and I think that was also important. We didn't make it difficult for people, we said here's a pattern but you can make any from any pattern you like and we didn't specify a shade of wool so there were a lot of variations and in the end that made for a better display," said Ian.
They decided to attach the poppies to netting. "It's a relatively cheap material and it comes in a wide variety of shades and we used that to make the sail-like structure which the poppies were attached to", he said.
The hard work of attaching the thousands of poppies to the netting was done primarily by a small group from within the church with some community support too.
The church had great technical advice too. "We were helped enormously by our historic structure's builder Jason Bruno who advised us how we could attach it to the tower safely. That was really very valuable and he also volunteered to do the final install for us. So, in the time-lapse video you can see he's the guy up the ladder. And he had a couple of his blokes inside, in the tower heaving it in. And in that way, we were able to put it up without stressing the tower, which was so important."
Once it was up and a few hiccups regarding the weather and securing it were overcome it went viral!
"People just started turning up," said Ian.
While the Poppy Tower caught the eye there was also an exhibition inside the church on WWI and conflict more generally. "We paired up poetry and scripture and some images – one or two were lent to us by the Imperial War Museum. One of the striking pieces was a picture of a French village in 1916. We put that next to a picture of destruction in a city in Syria. There was such a striking similarity that it really made people think."
The exhibition was free, but visitors kept trying to donate money. The church also got a small grant from the Test Valley Arts Foundation – based in the Test Valley, Wiltshire, which had also seen the initial graphics and loved the idea.
In the end the poppies attracted so many people the ground "took about six months to recover".
Would the church think of doing it again? Ian didn't think so as it was seen as a once-off.
He says the Poppy Tower put St John the Baptist, back on the map. Even some local people who know the other Anglican church in the village, All Saints, hadn't really known where St John the Baptist was.
"Some people still claim St John as their primary place of worship so it is still a working church but it's kind of tucked away. Now all you have to say is the 'Poppy Church' and everyone goes oh, that one."
And while the Poppy event will forever stand out, St John the Baptist does host other special projects. One was promoted by Caring for God's Acre, a national charity which works to support groups and individuals to investigate, care for, and enjoy burial grounds.
"We ran a tidy-up day and had an event for children and young people – a hunt around looking for bugs," said Ian.
St John the Baptist is part of the parish of north Baddesley along with All Saints. And the vicar is in charge of two other churches in two other parishes, Ampfield and Hillworth. "What you can do in the buildings is dictated by the sort of structures you have. We try to use each structure for the right thing… St John the Baptist was ideally suited for the poppy project."
Being so old and in a setting which has seen famine, plague and war it also seemed natural for St John the Baptist to join the Small Pilgrim Places Network, which aims to provide 'breathing spaces on the Pilgrim Journey'.
"People are reaching out for spaces where they can have spiritual experiences," said Ian.
Which is exactly what St John the Baptist supplied with its tower of poppies.
And we have since heard of a few other churches which produced stunning poppy displays.
In today's difficult times, what can we learn from North Baddesley church, Hampshire?