The One Bread Café at All Saints, Hove
By Susan Miller (February 2022)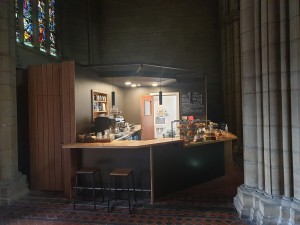 All Saints church in Hove is a church with a plan. A three-stage plan. Stage one was to carry out urgently needed repairs to the highest levels of this large Victorian Gothic grade I church. And Stage two has now launched – the One Bread Café, which opened in the south-west corner of the church in mid-December 2021.
Stage 1: high-level repairs
As churchwarden Peter Millar points out, All Saints is right on the pavement and so when pieces started falling off the roof the matter had to be addressed rapidly.
"The first stage was to spend a quarter of a million pounds on repairs to the upper parts of the church. With no churchyard, it is open to pavements on three sides, and over the years we've had bits falling off, so we had to do repairs to the upper works to keep the building secure.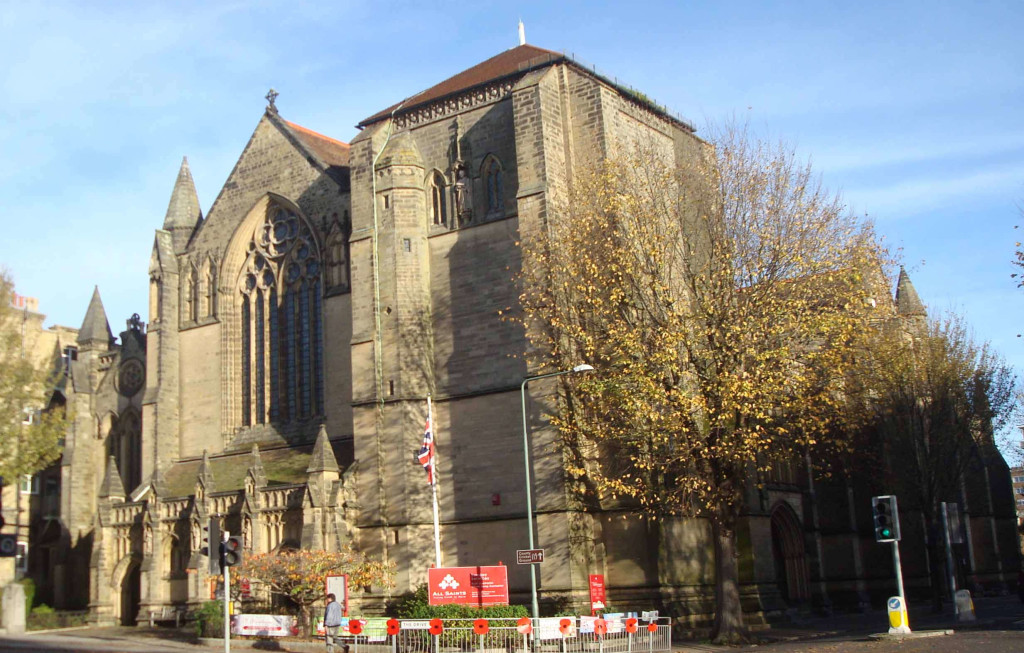 "At one point we had the front of the church covered in netting to catch bits of stone. We've had a running programme for about five years and raised funds partly from the National Churches Trust, the Headley Trust (Sainsbury's Family Trusts) and the Sussex Historic Churches Trust, so we've been getting a good bit of support from charities."
Stage 2: the Café
The Café was the second stage and is part of their outreach programme. It is open from morning to mid-afternoon four days a week, serving hot drinks (coffee of course) and cakes from a local bakery. There is also a lunchtime menu with two dishes of the day, and soups and pastries.
"We wanted to entice people into the building. We do put up boards when we are open and it has been fairly successful."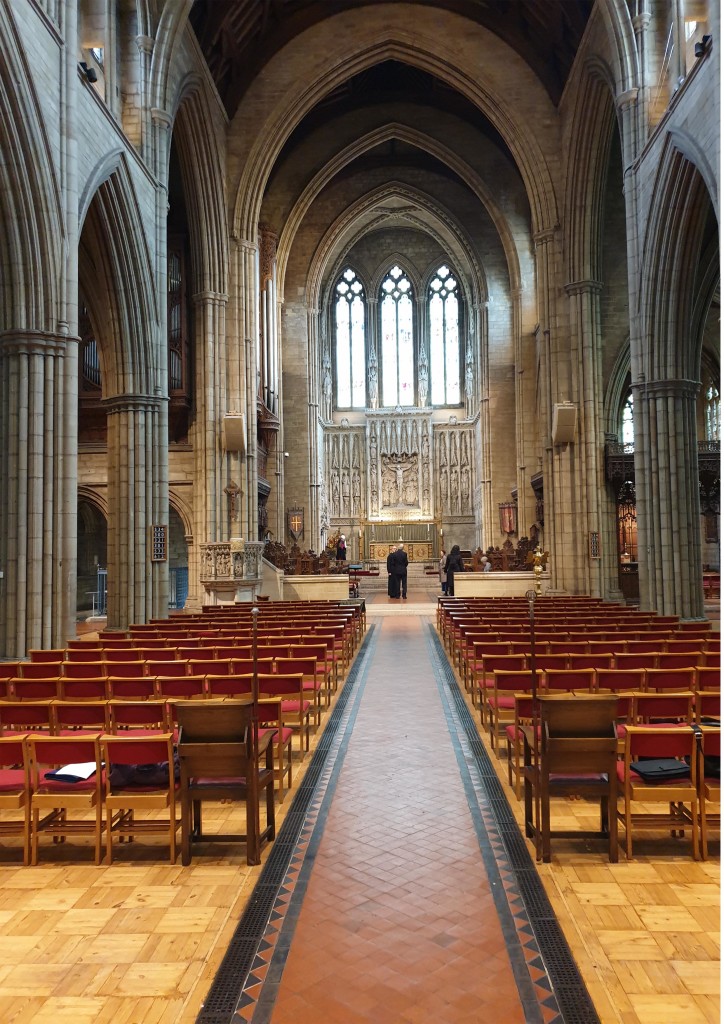 Peter says the idea behind the Café came about partially because the church had been closed during the week in the past and was not engaging with those who passed by. "We seemed to be internalised", he commented.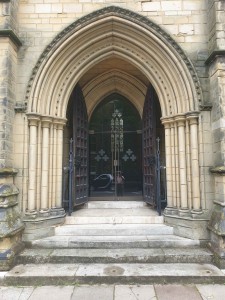 Also, people couldn't see into the church – which has a glorious interior – so they raised funds to get glass doors installed behind the main south-west door, paid for by a grant from the Laing Family Trust. "Of course we have contributed quite a bit of money from church funds and members of the congregation helped to buy equipment. We started planning this a year ago," said Peter.
"We now open the big old Victorian oak doors, and have the glass doors in place so people walking past can see in. It has also become an extra entrance for events. So that encouraged people to come in."
The Café is also training people in café work. Peter says there is a high portion of people in the vicinity who are jobless, "so part of our aim, and it's happening already, is to encourage people to come and be taught about food preparation and customer service."
It's been fully open since January and one of the congregation, Andrew James, who is a professional chef and had been managing the whole project is now the manager on a salary. The aim is for it to continue as it is into the foreseeable future, and to be progressively self-sustaining. Part of the church's future plans is to host more meetings and events, and for the café to be able to provide the catering for them all.
While much of the planning started during the COVID pandemic, team members were still able to meet with Purcell (architects) and choose contractors. Peter said the works didn't really interfere with normal church life.
Aside from the manager, there are volunteers working at the café, but Peter said that initially they have been running it with just two people. He explained it was still fairly small with eight tables and chairs at the back of the church, and they had also added a welcome desk with information for those visiting the church.
How successful has the Café been so far?
Peter visits the Café fairly regularly and he says the numbers vary between about 8 to 12 customers, with many people who attend church groups – such as their mother and toddler group, the Little Fishes – coming in for a coffee afterwards.
After all, as he points out, the One Bread Café is one of many cafes in Hove, but he feels they are "competing well on price and also quality".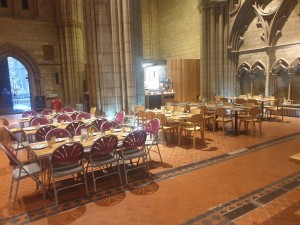 And it is already making a difference by being self-sustaining. For example, the church recently organised an afternoon of sports, like table-tennis, and other games for some of the many cross-Channel refugees living in hotels in Brighton and Hove.
"We had about 120 people come in and the cafe was able to provide refreshments, and we are able to give local people, refugees stuck in hotels in this case, an activity afternoon and food and drink. So our capacity to provide events for the people of Hove is markedly increased," he said.
The church has toilets – they are currently in the Crypt but there will be more accessible ones built in stage three of All Saint's plans, which entails developing the land between the church and the vicarage.
Before we discussed the longer-term plans, I asked Peter how busy the church buildings were currently. "We rent out the church space itself during the week as we have a regular organisation called Team Domenica, which provides training for people with learning disabilities, and we rent out our Hall about 75% of the time to all sorts of groups. And we ourselves have Little Fishes twice a week and Messy Church of course."
Stage 3: longer-term plans and capacity building
All Saints have a skilled team on the PCC (including a Professor of Civil Engineering), and Peter, himself an ex-RAF Air Marshal, says that when the vicar, Father Ryan, arrived in Hove about five years ago, he and Bishop Martin, the Bishop of Chichester "created a plan to develop more of this sort of community outreach capacity in Hove".
"We are now planning the third stage, which is a major strategic development which we think will cost somewhere between 2-3 million pounds.
"We've got a fairly detailed plan completed. We just need to raise the funds."
This longer-term plan is to develop the area to the east of the church and make a linkage between that area and the church itself, and that rebuild will include the extra toilets. They also want to knock down their 1980s church hall, which is "currently a single space with a flat roof that leaks" and replace it with a three-storey building.
Peter explained the latter building would be used for social events, which they already do a lot of, and also provide office spaces, which would be useful as they could be rented out. They also want to revamp the Vicarage, which is a Grade II Victorian brick-and-stone building.
The church is working with Purcell and has started raising money from the Laing Family Trust, the All Churches Trust (used for the One Bread Café construction) and the Hove Trinity Trust, and also an Archdeacon's loan.
Local Resource Churches
Aside from all of All Saints' ongoing plans, it and St Peter's in Brighton have both been chosen as Local Resource Churches for the Diocese of Sussex, which means they have had Church of England strategic funds – over a million pounds – allocated to them.
"St Peter's are at one end of the spectrum in the sense of appealing to young people with a more informal style of worship, while we have always been fairly High Church Anglican," said Peter.
He said the team at St Peter's had done a tremendous job of raising money and getting repairs done there too.
The idea, Peter says, is for both churches to provide leadership and resources for all the local parishes, and to help them grow in both numbers and confidence. All Saints were able to use part of their funds to appoint an operational manager and the catering/café manager, and so increase their capacity.
"Part of the strategic funding has meant that we were also able to appoint an Associate Vicar" he said. Father Lee Chantler joined All Saints in December and is in charge of the mission outreach side to all the other parishes in the deanery.
"The funding will include a degree of training for pastoral assistants and curates in combination with St Peters, so we will be using our Vicarage partly for accommodation," he said.
So the Café is one step on the road for All Saints in Hove, but it is a very important one as it reaches out to the local communities and ensures everyone feels welcomed in.
"Our congregation is slowly expanding and we are picking up one or two new people most weeks. The main aim of the coffee shop is that people come in and see the church and hopefully some of them will want to join the congregation. We have already seen a certain amount of that happening," said Peter.
I aim to test the coffee (and cake) and visit their gorgeous interior as soon as I find myself in Hove again.