Ringing out across the world
By Susan Miller (May 2021; updated April 2023)

UPDATE – HOW DID IT GO?
As I reported in May 2021 (see below), St Mary's Church, Bitton in Gloucestershire was at the centre of a stunning worldwide celebration of the 200th anniversary of the Revd Henry Thomas Ellacombe's Ringing Chimes apparatus. This took place on 26th June 2021.
I wrote about the extremely well-organised plans for global celebrations, with bells pealing out from the Sacred Heart Basilica in Timaru, New Zealand and then spreading across the globe.
I went back and asked the three main organisers Mike Gates, Nicola Bennetts and Jim Heavens how it went and also what had been happening since the event.
How it all went
They told us that the bellringing took 17 hours to complete and crossed 11 time zones, and over 146 churches took part including Bath Abbey and St David's Cathedral.
Many of those that took part joined a Facebook page and have stayed in touch. They discuss ideas, events and celebrations and visitors can still watch their performances during the celebrations (for example, Holy Trinity, Dubbo, New South Wales).
And then . . .
They told me that after organising such a hugely successful event, St Mary's went on to  showcase an exhibition about The Revd Henry Thomas's son, Canon H N Ellacombe, who was a famous plantsman and author on gardening. The exhibition included copies of notes, books and photographs and include examples of his writings which have been researched and put together by the church and Britton History Society.
What next?
St Mary's is working towards becoming a thriving hub of the community and an inspiring place of worship, heritage, pilgrimage and a centre of activity. It hosts events such as the exhibition described above and has plans for improvements, including installing a level floor that is accessible to wheelchair users, keeping the pews designed by Ellacombe but making them mobile, and extending their hospitality facilities.
* * * * * * * * * * * * * *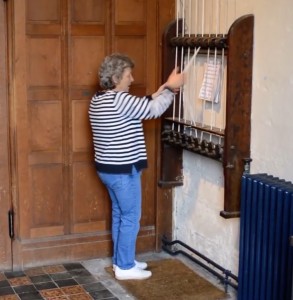 Ringing out across the world
Bells and Chimes from over 80 churches worldwide will ring out on 26th June – beginning at noon in Timaru, New Zealand and ending 17 hours later in Vancouver, Canada – all to celebrate the 200th anniversary of the Revd Henry Thomas Ellacombe's invention of his ringing Chimes, the 'Ellacombe Chiming Apparatus'.
The celebrations will be centred around St Mary's Church, Bitton in Gloucestershire (www.stmarysbitton.org.uk), where the chiming apparatus was invented in 1821 and installed in 1822.
At this year's celebration the device will be operated by the tower captain, Sue Elliott. This highlights the fact that the apparatus can be operated by just one person; at St Mary's it can be operated from the church porch, which was particularly useful during the first Covid lockdown.
Solving a problem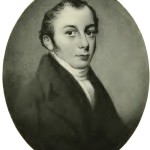 An historian, early archaeologist and humanitarian, Henry Thomas Ellacombe had the technical know-how to invent the apparatus, having initially worked as an engineer for Marc Brunel (the father of Isambard Kingdom Brunel).
Mike Gates, secretary of the Britton Parish History Group (www.bittonhistory.org.uk), points out that Ellacombe's disapproval of the St Mary's bell-ringers of his time, who 'often didn't attend church and would ring the bells for anybody that paid them', led to the invention of the chiming mechanism. For Ellacombe, a key feature of the device was that it could be operated by a single person, so that he did not have to continue to tolerate what he saw as the unruly behaviour of his team of bell-ringers.
In his 1850 work Practical Remarks on Belfries and Ringers, Ellacombe says of the Bitton bell-ringers that 'a more drunken set of fellows could not be found'. But, Mike says, this was a widespread problem across the country. The History Group believes that Ellacombe's written work and efforts to reform bell-ringing make him 'possibly the first scholarly campanologist'.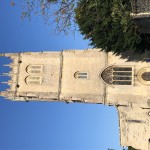 Ellacombe arrived as the curate of St Mary's in 1817, and later became the vicar. The mechanism that he devised, which enables stationary bells to be played by striking them with hammers, was first installed in 1822. This is in contrast to full-circle ringing, where the bells themselves are rotated by a rope around a wheel.
The Reverend Ellacombe, 'an extremely energetic' parish priest who had taken on a 'large parish, which was in parts quite lawless with the church in a state of disrepair', was particularly irked by bell-ringers who did not ring exclusively for church services and took part in 'prize ringing', in which teams from different churches competed for a prize.
Installed in a number of churches, the new apparatus required a lot of expertise to operate and also alienated the bell-ringers (understandably, one imagines). The sound of the Chimes that it produced was also thought to be a feeble substitute for the full bell-ringing experience. As Mike Gates points out, 'full-circle ringing is a grand British tradition that makes a wonderful sound and is undoubtedly not surpassed by any other form of bell-ringing. Hence the Ellacombe Chimes fell out of favour in many churches.'
Some of the mechanisms were removed from church towers, leaving holes and frames without ropes. However, there are still over 400 Ellacombe Chimes in working order in the UK and at least 40 in other parts of the world. And the apparatus is still often used to play simple call-change sequences, hymn tunes and carols at Christmas.
Value today
Mike says he understands that 'when you are ringing the Ellacombe Chimes you can play a hymn more effectively in tune because it's easier to get the rhythm right, because you have one person controlling it'.
It can also be very useful if there are not enough bell-ringers for some reason and this feature came into its own again recently during the first Covid lockdown.
Jim Heavens, chair of the St Mary's Development Committee, commented that the Church of England – once they had got over the problem of nobody being able to go to church at all – 'specifically said the Ellacombe Chimes could still be rung, because at that stage you couldn't ring the bells in the ringing chamber because it was impossible to give people enough space to stand far enough apart'.
The commemoration
All forms of ringing and chiming will be participating in this 2021 commemoration of the Revd Ellacombe's contribution to the world's bell-ringing heritage, including carillons and full-circle towers.
The celebrations are being organised jointly by St Mary's and the Bitton Parish History Group.
Mike emphasised that they were still keen to include additional churches that might want to participate. Contact Mike at mg122@btinternet.com if you would like your church to take part.
Starting the Chimes
The celebrations on 26th June will begin at the Sacred Heart Basilica, or Timaru Basilica, in Timaru, New Zealand, a Roman Catholic church that was completed in 1911. The north-east tower houses a ring of scale C bells, cast by English firm John Warner & Sons, which were installed in July 1914. The bells will be rung using the Ellacombe apparatus, beginning at 12:00 noon local time (GMT +12), which will be 1:00am in Bitton.
Churches and towers worldwide that have the apparatus installed will take part and they will be joined by other churches and bell towers with normal ringing. These will include numerous churches across England and some in Australia, Canada, Ireland, New Zealand, South Africa, Gibraltar and the United States.
Everybody can enjoy the festivities, as St Mary's will be live-streaming the festivities on its Facebook page and also hosting a special performance based on the Chimes. The church has invited the local school and the community to come along and 'bring along something of a picnic to celebrate'. The ancient church, situated on a site dating back to Roman times, is Grade I-listed and sits at the heart of the village.
Changes at St Mary's
The event is going to celebrate the re-opening of St Mary's after lockdown, and also 'kickstart an overarching plan to develop the church and make it more of a community hub'. Nicola Bennetts, secretary of the Development Group, said 'We have been making plans for some while, which were held up by Covid, so we see it as a 'hey, this is what we are doing at the moment' time'.*
One change they intend to bring about is to make the church space more flexible by making their pews mobile, as some other churches have done.
So, fittingly, the Ellacombe Chimes celebrations will begin St Mary's efforts to ring the changes. For videos, and links, scroll down to the bottom of this page.
* St Mary's Bitton was one of three churches in the Diocese of Bristol to be awarded a grant as part of the government's Culture Recovery Fund. It will receive up to £15,700 and Nicola Bennetts said the grant would provide a 'much-needed boost to the church's maintenance fund and enable some improvements to safe opening and communications'.
The Bitton Parish History Group is also going to be publishing a book about the Ellacombe Chiming apparatus, which will explore its history and also the life of its inventor, and include a page for each of the participating churches.
Videos
https://www.youtube.com/watch?v=-SWHI914N4A
Audio recordings
http://www.churchside1.plus.com/EllacombeAudios.htm
Photos of selected international participants:
http://www.bittonhistory.org.uk/ellacombe-Chimes-bicentennial/