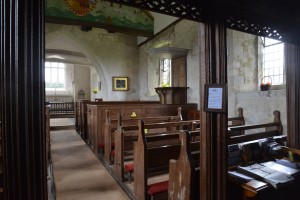 Events
For up to date, latest information, please sign up for our free newsletter
BIG UPDATE 6 December 2017 Central London 10.00 – 4.15
Booking now open, and details of venue, at https://www.eventbrite.co.uk/e/historic-religious-building-alliance-big-update-tickets-37450596743?aff=es2
Finalised programme for this year:

John Glen, Minister for Arts, Heritage and Tourism at the Department for Digital, Culture, Media & Sport (DCMS)  will give a brief overview of  developments within DCMS related to heritage policy and places of worship. Note: it is now clear that the Review commissioned by the Government into the Sustainability of English Churches and Cathedrals will not have reported by the time of the Big Update, and the Minister will therefore be constrained in what he can say about this Review.
Keynote speaker: Becky Clark, Director of the Church Buildings Council of the Church of England, on 'Austerity, Atheists and Angst: What future for church buildings?'
Other talks on:
Brief Review of the Year (Trevor Cooper, HRBA)
Supporting your communities: The Big Lottery (Rosie Mockett, Portfolio Policy Manager. Big Lottery)
Interpreting churches using the latest digital technology (Anne Fletcher and Spencer Clark, members of the Association of Heritage Interpretation)
Community development resources for churches (Jonathan Gordon-Farleigh, Director, Stir to Action)
'Moving Mountains: If people won't come to our buildings….' (Graham Fender-Allison, Resourcing Worship Team Leader, Mission and Discipleship Council, Church of Scotland)
'Crossing the Threshold': a resource for anyone contemplating major changes to a place of worship (Becky Payne, HRBA)
The strategic action plans for historic places of worship in Wales (Christopher Catling, the Secretary, RCAHMW)
Tales from the Inner City – Toxteth Churches (Ian Simpson, Heritage Officer, diocese of Liverpool)
A Postcard to the Future from Living Stones (Susan Rowe, reflecting on the work of Living Stones in supporting churches as they undertook major projects)
The Historic Religious Building Alliance's BIG UPDATE is open to everyone. It is your chance to keep up to date with what's happening to secure the future of historic religious buildings, and to chat to others with similar interests and concerns.
The only event of its kind, it's friendly, lively, and informal, combining lots of short talks with time for questions and discussion.
Quarterly meetings
Subscribing members are invited to our quarterly meetings, which are publicised in our e-newsletter

December 2017
Ecclesiological Society's Annual Dykes Bower lecture on 5 December 2017 in central London at 6.30pm
A talk by Janet Gough former Director of the Church Buildings Council, entitled 'On a Wing and a Prayer: why we need to get serious about England's Unique Church Heritage – a journey around the Church of England's Churches'  http://ecclsoc.org/events/lecture-englands-unique-church-heritage-and-why-its-worth-fighting-for/
Inspiring Rural Communities Together Conference 2017 on 6th December 2017 9:45am to 3.30pm at St Bride Foundation, Fleet Street, London, EC4Y 8EQ
This conference is FREE of charge and open to anyone that lives in, or supports, a rural community in England, Scotland, Wales or Northern Ireland and wants to save or start a community owned enterprise – from shops, pubs, woodlands, renewable energy schemes, transport services or anything else, or are simply looking for inspiration and advice https://www.plunkett.co.uk/Event/inspiring-rural-communities-together-conference-2017
February 2018
Pilgrimage into Mission a conference hosted by the East AnglianPilgrimage Network Saturday 3 February 2018, Weston Room, 10am – 4pm
A day learning about how the international surge in popularity of pilgrimage is creating significant opportunities in mission for local parishes. https://www.cathedral.org.uk/whats-on/events/detail/2018/02/03/default-calendar/pilgrimage-into-mission-o8e6VYqIUEOyd211sbrjtw
Places of Worship in Britain and Ireland 1990–2020 (Oxford) 2–4 February 2018
Last in an annual series of chronologically arranged weekends at Rewley House on Places of Worship in Britain and Ireland. Starting in the 1990s, when members of many of the more recently arrived faiths and Christian denominations began to build permanent, purpose-designed, places of worship, contributors will discuss the proliferation of buildings, discussing their distinctive features, and the ways in which they are used for worship. An overall picture will emerge of how religious diversity is reflected in physical reality and in the contemporary landscape. https://www.conted.ox.ac.uk/courses/places-of-worship-in-britain-and-ireland-1990-2020?code=O17P104HCR
March 2018
Interpreting Medieval Monuments: Iconography and Meaning: one-day conference in London, Saturday 17 March 2018
The Church Monuments Society is holding this one-day conference in the London School of Economics, New Academic Building, 54 Lincoln's Inn Fields, London. The speakers will be Sally Badham, Jessica Barker, Brian & Moira Gittos, Nicola Jennings, Andrew Murray, and Sophie Oosterwijk. http://www.churchmonumentssociety.org/cms%20events.html